As we welcome you during this unprecedented time, our staff has increased our sanitation and safety protocols in order to make your visit as comfortable as possible.
During your visit, there are a number of improvements made in order to provide you with a safe experience.
All patrons who visit our space, will be required to book an appointment and will be provided with a private tour of the space. Prior to and at the conclusion of every meeting, surfaces will be sanitized and cleaned for our patron's safety.
When our patrons arrive for their appointment, they will be provided with hand sanitizer, and will have easy access to hand sanitizing stations and hand washing stations.
We request that any patrons affected by the following symptoms (outlined by Alberta Health Services) reschedule their visit:
Cough
Fever
Shortness of Breath
Runny Nose
Sore Throat
As an additional safety step, all patrons will be asked to take a touch-less temperature check upon entering the venue.
During events or gatherings, there are multiple steps that will be taken to protect our patrons, vendors, and staff. Along with the temperature checks, hand sanitizing stations and COVID-19 screening, we will provide the following:
At all times, our staff will all be wearing either a face mask or shield, gloves as they remove cutlery, glassware, china etc., and regular changes of Personal Protective Equipment (PPE)
Multiple locations will have barriers in place to help mitigate any close contact, from patron to patron, staff to patron, and staff to staff. Cutlery will be provided individually, and water jugs have been removed to help avoid creating a high touch object.
All chairs and tables will be sanitized prior to and after events have been concluded. All doors, railings and surfaces are regularly sanitized throughout the event, along with washrooms, food service areas, bar space, etc.
The White Diamond Conference Center will be Implementing the Restrictions Exemption Program, which would require all guests to provide proof of vaccination or negative test result, plus mandatory masking. 
We thank you for your understanding during this time.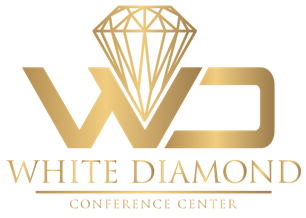 BOOK YOUR NEXT EVENT NOW!
We love our customers, so feel free to call or email us to book an appointment!
White Diamond Conference Center